Unlike most people, I save all the cards and birth announcements I've received through the mail. I actually store them all in a hat box, and cycle them through an album. It's gives me a warm feeling to look back through the years, and see photos of my friends travles, their children and reread the (sometimes) cheesy messages I receive; I can't help it, but I'm a sucker for the holiday cheer. I am well aware that most people are not like me, and end up sending the card into the recycling bin, or worse, throwing it in the trash once the New Year rolls around. Because of this, I've avoided sending holiday cards out for the last few years. I've felt so guilty that I even failed to send out a birth announcement when my little one was born earlier this year.
However, I just couldn't resist this year. I came upon so many options, and since I was on a tight deadline to get them out, I was so excited when I learned that there are now more options to print through the user-friendly Shutterfly on either recycled or sustainably forested paper. So, I decided to bite the bullet and do a combo birth announcement/Holiday card.
If you get one from me or anyone else, please keep it for the memory, find a creative way to reuse it, or just plain ol' recycle!
Happy Holidays to you all!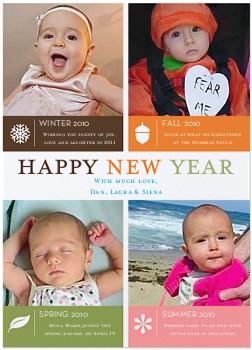 Through The Seasons New Year's Card
Click here to browse Shutterfly's holiday card collection.

xoxo, Laura